​"We photographers, in the course of taking pictures, inevitably make a judgment on what we see, and that implies a great responsibility" (Henri-Cartier Bresson, from The Mind's Eye)

To me, looking at pictures means participating in a three-way conversation. On the one hand, I enter into a conversation with the object in the picture. When a familiar object looks unfamiliar in the picture, I find myself engaging in an imaginary conversation with the un/familiar object that has gone through a magical transformation via someone else's camera lens. On the other hand, a channel of conversation opens up between me and the photographer, who makes a certain "judgment" on the object. What judgment does she deliver in her picture? What does she see that I don't see? What thought, feeling, and values underlie the photographer's judgment? In a three-way conversation between me, the image, and the photographer, a question is followed by another, my way of seeing keeps shifting, and the order of things in my universe is thrown into question to be reorganized. After looking at an image, I become a different person from who I was before the experience.

Powered by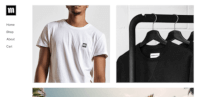 Create your own unique website with customizable templates.